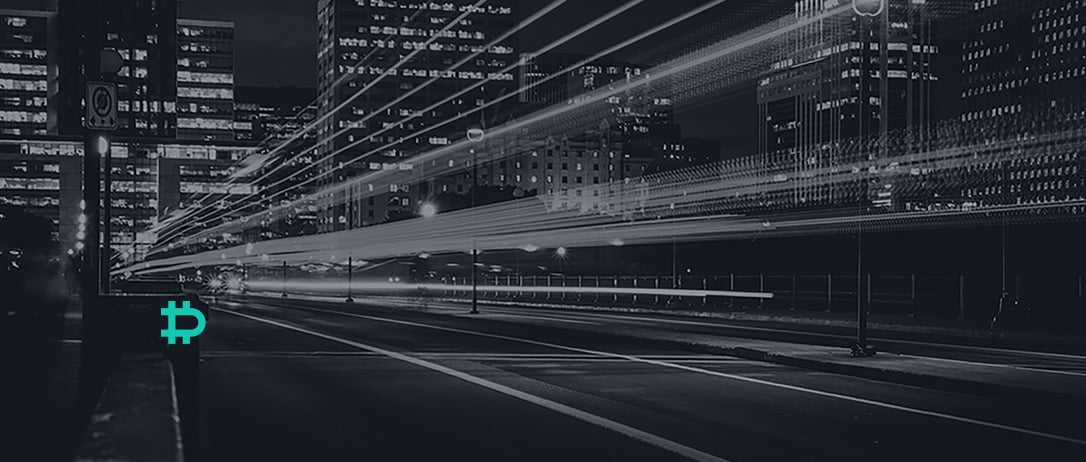 Dear client,
We would like to inform you of the changes coming into force in the upcoming month. Please read how this will affect you and your trading experience in the section below:
Deribit is moving
On February 10, 2020, the cryptocurrency derivatives exchange platform that you are using via Deribit.com or related interfaces (the "Platform") will no longer be operated by the Dutch company Deribit B.V., but by DRB Panama Inc., a 100% subsidiary of the Dutch entity.
Why are we moving?
The Platform will move to Panama, as we wish to continue offering an easily accessible trading platform at very low costs. Currently, Deribit is operating in the Netherlands. However, the Netherlands will most likely adopt a very strict implementation of new EU regulations that also apply to crypto companies (5AMLD). If Deribit falls under these new regulations, this would mean that we have to demand an extensive amount of information from our current and future customers. We believe that crypto markets should be freely available to most, and the new regulations would put too high barriers for the majority of traders, both – regulatory and cost-wise. The implementation of these changes would greatly affect the exchange and its customers. Therefore, we have decided to operate the Platform from Panama. The team and leadership will remain the same, with John Jansen as the CEO.
What will change?
From February 10, 2020, the entire operational Platform will be assigned to DRB Panama Inc., incorporated and operated in Panama. In general, all open client positions, holdings, equity, trade history, fees, rate limits, wallets, portfolio margin arrangements, and other system settings will be transferred from Deribit B.V. to DRB Panama. The hardware (servers) operating the Platform will also remain the same and will be moved to London as announced earlier. All community groups and notifications channels will naturally remain the same, as operated by our global staff.
Terms of service and privacy policy
After the transfer of the Platform to DRB Panama, the terms of service and privacy policy of the new company will apply. These terms are materially similar to the terms of Deribit B.V.
Please carefully read the full text of the new terms here and the new privacy policy here.
What now?
We welcome you to continue using the Platform as usual. Deribit remains to be the most advanced professional-grade crypto-derivatives platform in the market, and the relocation will not change that. Therefore, we hope that you accept DRB Panama as your new contracting partner under the new terms and conditions.
Should you have any questions regarding the move, please do not hesitate and contact us via our support channels.
What happens if you do not agree?
If you do not want to use the Platform under the new operator or disagree with the new terms of service, unfortunately, the only alternative is to leave Deribit.
KYC
Global regulation is changing and even though the various changes are not applicable to companies based in Panama, we always strive to prevent illegal activities on our platform. Nonetheless, we want to remain competitive and not restrict our clients. For this reason, as of February 10, 2020, we are expanding our KYC requirements.
For this purpose, we will use the tools of Jumio and Chainalysis. Current clients will be registered as Level 0 clients. If you would like to apply for Level 1 services, the respective KYC requirements are required as of February 10, 2020, and will be made available at the end of January in your Deribit account.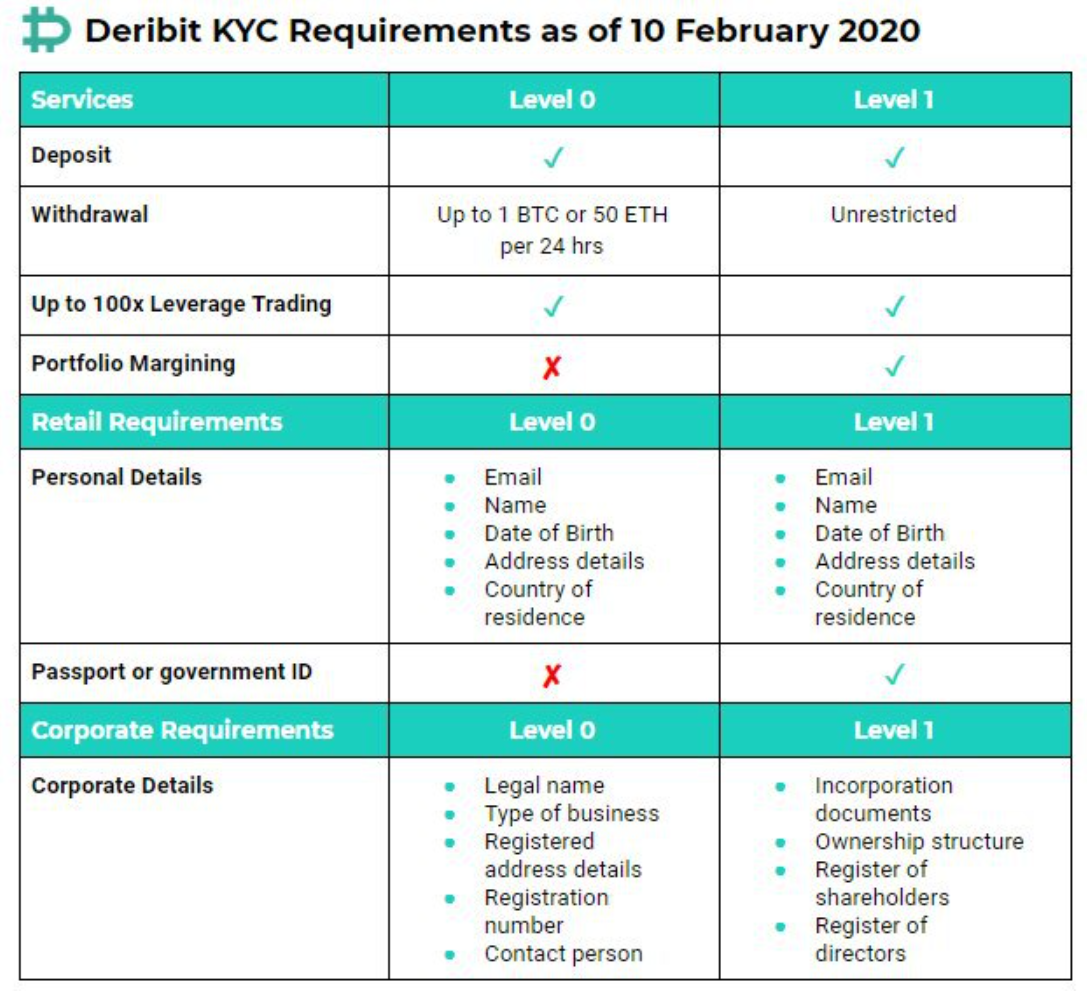 Please click here to learn more about Portfolio Margin.
Contact us
Feel free to contact us for more information or explanation.
General Support
support@deribit.com
https://t.me/deribit
Business and Press
info@deribit.com